Trimstone Manor Self Catering
Trimstone Nr Woolacombe West Down
Tel: 01271862841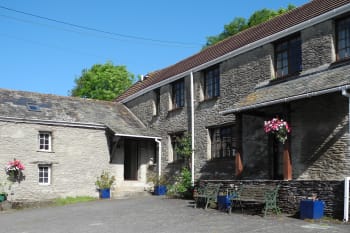 The Cottages are set in 44 acres of landscaped gardens and beautiful North Devon countryside and provide the perfect location for those who want a peaceful and relaxing break. But with easy access to the A361 Trimstone is also perfect for those who want to explore North Devon. The fine sandy beaches and rolling surf of Croyde, Woolacombe and Saunton are a short drive away as are the secluded coves and cliff paths around Ilfracombe and Combe Martin. Other attractions include the famous twin villages of Lynton and Lynmouth, Exmoor, the North Devon coastal footpath, Arlington Court for the National Trusts' Carriage Collection or the delights of a working sheep dog and falconry demonstration at Lee Cross under a mile away. For energy efficiency (both for cost and environmental reasons), please note that the Swimming Pool will be closed after October Half-Term until Easter during our low season.
Availability
There are no rooms available at Trimstone Manor Self Catering
for these dates.
Please try other dates or select a
different property
.
cottages
Facilities
Swimming Pool (on site)
Games Room (on site)
Tennis Court (on site)
Sauna (on site)
Beach (4 miles away)
Public Footpaths (nearby)
Gym (on site)
Licensed Restaurant and Bar open Friday and Saturday evenings (on site, pre-booking essential)
Disabled access to most shared hotel facilities - please ask for more information.
Bar (on site)
Garden For Residents' Use
Golf Course (nearby)
Wi-Fi
Policies
Check In: Between 16:00 and 18:00
Check Out: Between 9:00 and 10:00
Wi-fi: Wireless internet is available and is free of charge.
Smoking: There is no smoking permitted anywhere within the property.
Parking: Limited parking is available on site and is free of charge. There is no on street parking available. Parking is available nearby and is free of charge.


Children: Children of all ages are welcome.
Pets: Pets are allowed at a charge of £20.00 per stay.
Groups: All groups are accepted.
Average
4.6
out of 5
29 reviews
100% recommend
Reviews
12th September 2020:

The Mill apartment was fine but a little tired looking. Eg curtains kept falling off in bedroom. A couple of cushions in sitting room would be nice. However we enjoyed our stay. Thank you
Would Recommend: Yes
Owner Response:
Thank you and for taking the time to comment. We had to remove as many soft furnishings as possible for Covid19 precautions - sorry... Sorry about the curtains - you should have mentioned that and we'd have fixed the problem there and then! Look forward to seeing you again!
12th September 2020:

Found everyone really helpful and cheerful
Would Recommend: Yes
12th September 2020:

We had a comfortable stay and hotel was nice and quiet. Location was ideal for exploring local area. But it would be difficult to go out without a car as not near bus stops and lane too dangerous to walk in. Staff were very friendly and helpful.
Tips:
We would recommend the boat trip on Princess boat in Ilfracombe as good way to see coastline. We found some good challenging walks on the coastal path, the easiest walk was Woolacombe to Croyde as involved the least climbing. If we had more time we would have taken a kayak out to explore caves along coast from Ilfracombe to Combe Martin.
Would Recommend: Yes
Owner Response:
Thank you for your review and nice to have met you! Look forward to seeing you again! All good wishes
5th September 2020:

Would Recommend: Yes
Owner Response:
Thank you for your kind comments! :)
31st August 2020:

A fantastic getaway for families with kids/young teens and dogs . Plenty of walks plenty of facilities and a real home from home feel and relaxation. Hosts could not be any kinder and more helpful and quick to respond to help and questions. Staff on site so lovely and happy to help. The whole environment had a really happy, relaxed and warm feel to it. We all had a super time despite a few rainy days!
Tips:
Due to help out to eat out we were unable to try any local restaurants as everywhere was completely booked up but that didn't stop us enjoying home cooked food each night - nearest Tesco not far - And we had a couple of takeaways as a treat!! Saunton beach AMAZING Woolacombe bay lovely but very busy. Morte point a brilliant dog walking place. Pool on site used everyday by our kids!!!
Would Recommend: Yes
Owner Response:
Thank you for your kind comments - lovely to have met you all!
30th August 2020:

The cottage was perfect for our stay, the children loved the pool and we would come again.
Would Recommend: Yes
Owner Response:
Thank you so much for your kind comments! We look forward to seeing you again!
26th July 2020:

Lovely short break. Staff were fabulous. Great for our granddaughter. Would definitely go back
Tips:
woolacombe beach a must for the children. Go towards the A361 if going out as the narrow road is shorter than if you go left out of the Manor.
Would Recommend: Yes
25th July 2020:

We had a wonderful stay at Trimstone Manor, our family didn't want to leave after our 4 night stay. Staff were very friendly and accommodating and the cottage has everything you need. Would definitely return in the future.
Tips:
This is a great location with lots to do locally, Ilfracombe is only a short drive away where you can find lots of nice cafes, shops and restaurants (dog friendly), and it's only a 10 minute drive away to the beautiful Woolacombe beach. My sons had great fun skim boarding here while us adults soaked up the sun. If you're looking for somewhere nice to eat 'The Jube' is great, very friendly and delicious food. My partner and son went clay pigeon shooting at North Devon Shooting Ground, 5 minute drive from the accommodation. An excellent stay enjoyed by all.
Would Recommend: Yes
Owner Response:
Thank you for your lovely review and comments Mrs Tub, we are delighted you had such a wonderful stay and we very much look forward to your return in the future Best wishes from all of us at Trimstone Manor!
14th July 2020:

Unfortunately the facilities were closed due to government restrictions, but the cottage itself was charming. It was a bit cold until the heating came on, and a bit creaky, but what can you expect from such an old building. The cottage had everything we needed and was a nice setup for two small families.
Tips:
Great beach and rockpooling nearby, but check the tides.
Would Recommend: Yes
3rd November 2019:

Lovely rural location. Swimming pool and games room excellent. Plenty of walks for dog owners. Short distance to beach and Watersmeet. Staff all very friendly and helpful.
Tips:
Williams Arms in Braunton is excellent and Squires fish restaurant highly recommended. Watersmeet is wonderful. Lynton and Lynmouth definitely worth visiting.
Would Recommend: Yes
Owner Response:
Thank you for your review Mrs Ainsley, we are pleased you all enjoyed your stay here at Trimstone Country House Hotel and got to take advantage of many of the local places here. We look forward to welcoming you back in the future Best wishes from everyone here at Trimstone Country Manor Hotel and Cottages.
6th September 2019:

Lovely, peaceful, quiet location close to the coast. Has everything you need and plenty to do if the weather's not so great - we had the swimming pool to ourselves most days, games room, trampoline and the lovely rare breed birds. Friendly owners and a cracking breakfast!
Tips:
Tunnels Beaches are fabulous!
Would Recommend: Yes
Owner Response:
Thank you Mrs Robinson for the lovely review, we are pleased you enjoyed your stay here at Trimstone Country Manor Hotel & Cottages, and got to see some of the great things this area has to offer. We hope to have the opportunity in welcoming you again in the future. Best Wishes
25th July 2019:

Trimstone is a charming, relaxing place to stay. The staff are incredibly helpful and friendly and nothing is too much trouble. We enjoyed a most lovely cream tea in the garden and made full use of the gardens and the amazing swimming pool. A good time was had by all.
Tips:
Woolacombe beach is a great place to take children as there are plenty of facilities. This of course, makes it busy. Ilfracombe is a must, if only to see Verity and the little aquarium is very informative. We took a full shopping load with us to Trimstone, but there is a Tesco and Asda not too far away.
Would Recommend: Yes
Owner Response:
Thank you very much for your lovely comments. We are all glad that you enjoyed your stay and we really hope that you will return in the not so distant future.
22nd June 2019:

The accommodation was very comfortable and cosy and everything was provided. Anything else we asked for was sourced and given without complaint by the staff. Great to have good heating and hot water as it has been a cold summer. Pool is very good, though disappointed no jacuzzi. Some of the games in the games room were not working.
Would Recommend: Yes
4th June 2019:

We stayed in Mill cottage. Property is dated and in need of renovation. Sofas are hard and worn. General decor is tired. Kitchen facilities are on the basic side and made cooking a little challenging with the utensils/pans provided. Price for stay was high but accept that this was during school hols. Trampoline needs to be removed as it's old and dangerous On the positive side the service provided by ALL staff was fantastic. Nothing was too much! Had a problem with WiFi and the technology guru wouldn't leave until he had sorted it. Indoor swimming pool was brilliant. Kids spent hours upon hours in their! Kids also loved the well stocked games room with loads of dvds and games. We had afternoon tea and it was delicious at the manor! There was so much had to share it with the kids (grudgingly!)
Tips:
Putsborough beach is amazing, secluded and just beautiful. We did a murder mystery self tour in Ilfracombe with the kids and they enjoyed it. It's online and you print out the maps etc, think it was £5.99. Tarka trail was good and was a good 1/2 day well spent. Rental from outside the train station. Tesco's do a delivery service instead of going shopping to our cottage.
Would Recommend: Yes
23rd February 2019:

The layout of the cottage didn't suit 7 people, the table was too small, and couldn't really be moved to accommodate 7. The 2 lounges ment we were either sitting on dining chairs if we all wanted to be together, in the evening. Or in separate lounges. Otherwise comfortable, and adequately equipped. Grounds were nice, and the pool area was lovely although closed when we were there.
Tips:
Well situated, only 10-15 mins max from lots of beaches. Putsborough was our favourite, parking more expensive, but lovely beach cafe, and clean toilets.
Would Recommend: Yes
29th October 2018:

Would Recommend: Yes
8th October 2018:

The pool was a real bonus. Lovely and warm. We really enjoyed the games room for table tennis too. The staff were unfailingly friendly and helpful
Would Recommend: Yes
16th August 2018:

We found the experience 'quirky' but most enjoyable. Practical things which would have improved our stay: The refrigerators were too small for large catering, particularly in the Granary and some of the doors needed repair (although every time we raised issues such as this the staff responded quickly and effectively). We had little need of a large freezer for our short stay. We also had potential disasters with hungry people when the hot plate in the Granary switches itself off when cooking a lot! The kitchen bins are too small and we generated a lot of recycling and the instruction to leave this beside the bin would have meant mountains of it in the living space. Some of the carpets could do with better tacking down. One of the children cut his foot in the Manor Cottage. The mattress we slept on was too hard. We bought a memory foam topping which solved it for us. The children loved the trampoline but it is rather hazardous.... We only make these comments to be helpful. We will probably book a return stay in the future
Tips:
Watermouth Castle was ideal for children. A party enjoyed cycling on the Tarka Trail and were able to hire bikes quite easily. The Quad biking was very expensive but the teenagers had fun.
Would Recommend: Yes
4th July 2018:

Everything perfect just an issue with one bed that we think had some insect that bite at night :-/ and some corners of the house with spider web.
Tips:
Great location, make sure to ask if some towels are provided!
Would Recommend: Yes
27th April 2018:

Would Recommend: Yes
23rd April 2018:

There were a few hiccups at the start of our stay, but nothing serious. Anything which was reported was dealt with swiftly and efficiently. We found the staff very pleasant. The only problems which we encountered were the small dining space and the small sitting room in Paddock Cottage. We took our large table over to Mill Cottage and cooked and ate there with the blessing of the owner. None of this spoiled our stay!
Tips:
Where does one begin? Beautiful Countryside ... great for rambling! Arlington Hall. Parracombe with its beautiful old church and the delightful food at the Fox and Goose. A trip to Lundy Island calling in at Mr Chips on the Quay on the way back. The coastal path. Lynton and Lynmouth and the water powered funicular.
Would Recommend: Yes
22nd April 2018:

All great for purpose. A walking holiday. I would have liked a light proof blind in the bedroom, and a reminder about towels and a bath mat. The very bright light over the swimming pool entrance was a bit of a pain, making the room very light at bedtime. Nice stay. Thank you.
Would Recommend: Yes
31st July 2017:

very good facilities with washing machine microwave dishwasher oven & hob kettle & cutlery in mill apartment very good for dogs swimming pool (very warm) and gym are excellent.
Tips:
nearby is Woolacombe very nice with good sandy beach Ilfracombe not so good best place IMO head over to Lynmouth & Lynton Valley of the rocks and Watersmeet house all around 1/2 hour drive in Exmoor.
Would Recommend: Yes
Owner Response:
Thank you so much for your kind comments. Thank you for staying with us and we are so pleased you all enjoyed yourselves. We look forward to seeing you again!
31st July 2017:

Brilliant love it here so much lovely friendly staff Lovely views and scenery. If u all just want colourful flowers and peace you got it all here, also if you want to swim here there is an under cover heated pool.
Tips:
Lots of things to do in and around this area In Braunton there is a handful of restaurants. Places to visit are big sheep Milky Way play areas for kids Watermouth is a must see place Woolacombe beach is award winning clean and soft golden sand
Would Recommend: Yes
Owner Response:
Dear Alison Thank you so much for your review and so sorry we missed you all this year! That is very kind of you to comment as you have. If you feel able to comment on TripAdvisor as well, that would be really great, especially to counter the negative people...! Look forwrad to seeing you again!
26th June 2017:

Comfortable cottage in peaceful rural surroundings.Very much enjoyed our stay.
Tips:
One of U.K.'s most magnificent beaches at Woolacombe just 2/3 miles away and quaint fishing town of Ilfracombe also 2/3 miles away. Perfect place for a short stay.
Would Recommend: Yes
5th June 2017:

Our second stay at Trimstone proved even better than last year. Our accommodation was very comfortable and the facilities perfect for our seven children. The complex is safe and 'explorable' and to be honest the children only sought out adults when hungry, thirsty or needing an adult to sit poolside. The same applied to our family dogs, except the pool! Wifi is excellent allowing numerous devices to stream, play and surf. 20+Mbs. The staff are always helpful and around to answer questions or just to pass the time of day. The location is perfect for water sports, beaches and walking. Ilfracombe is your quintessential English seaside town with shops, chippies, boats and pubs. Our party took the sea safari from here and loved it. We also went coasteering with the blue double decker bus team out of Croyde Bay along Baggy Point. That was excellent and highly recommended. Local beaches from Trimstone are Woolacombe, sand dunes, gentle sloping beach, dog friendly and chips! Croyde, sheltered and Saunterton sands again dog friendly, windy and surf schools galore. Combe Martin is rocky but has a cafe beach side and shops to spend. This is where we canoed from last year. We won't be at Trimstone next year purely because we are exploring the south Devon coast for a change. I did however get approached by a deputation of children on our day of departure asking if I could cancel south Devon and come back to Trimstone so watch this space. Memories made at Trimstone. Thank you.
Would Recommend: Yes
17th April 2017:

We had a fantastic stay in the Granary Cottage and the kids and dogs loved the freedom of the estate running through the fields, playing on the trampoline and using the leisure facilities.
Tips:
fantastic for families looking for some peace and quiet in the North Devon seaside. There is plenty to do and see locally that is just a short drive away and the staff will help you our with recommendations of what to see and do.
Would Recommend: Yes
30th October 2016:

The cottage could do with a small update especially in the kitchen with the addition of a washing machine and maybe a dishwasher. Wonderful warm pool to use, a delight to relax in. Very friendly and helpful staff.
Would Recommend: Yes
26th June 2016:

we stayed 5 days in the self-catering Mill-Apartment. The big 2-room-apartment with a joined kitchen was very well equipped and the beds were good. The staff was helpful and friendly. The view from the manorhouse was beautiful. We didn't try the restaurant by our selves, but it looked like very inviting.
Tips:
It is not far to Ilfracombe (a very nice village) and Woolacombe (beautiful beach). Also Arlington court is a nice place to go (when the weather is not so good. Lynton and Lynmouth are also quite near and very nice for a daytrip. The Coastpath is quite near with lovely views.
Would Recommend: Yes
.