Varley House
13 Chambercombe Park Terrace
Tel: 01271 863927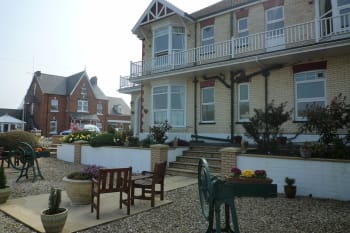 We are an Edwardian Built Guest House, originally built as a home for Officers recuperating from the Boer War. Come and enjoy the splendour of the North Devon Scenery, in our well proportioned rooms, with the high ceilings expected of a house like ours. We are situated in quiet part of Ilfracombe, on the edge of town, with some stunning views across the Bristol Channel, and the Hillsborough nature reserve. We are the ideal base for exploring Ilfracombe and North Devon, or to stay with us before departing for Lundy Island
Availability
There are no rooms available at Varley House
for these dates.
Please try other dates or select a
different property
.
rooms
Facilities
Bar Available
Breakfast Room
Children Welcome
Early Breakfast By Arrangement
Full Alcohol Drinks Licence
Internet Access
Lounge
Television Lounge
Policies
Check In: Between 15:00 and 21:00
Check Out: Between 8:00 and 10:30
Wi-fi: Wireless internet is available and is free of charge.
Smoking: There is no smoking permitted anywhere within the property.
Parking: Parking for all guests is available on site and is free of charge.


Children: Children of all ages are welcome.
Pets: Pets are not allowed.
Groups: All groups are accepted.
Average
4.8
out of 5
16 reviews
100% recommend
Reviews
25th July 2018:

Would Recommend: Yes
1st October 2017:

I spent 5 nights at Varley House and really enjoyed it. The house has a lovely feeling to it, is very elegant and is situated in a quiet area. The breakfasts were delicious and the hosts very helpful and friendly. I would definitely stay there again and highly recommend it.
Tips:
The Smugglers restaurant by the harbour is a great place to eat.
Would Recommend: Yes
11th August 2017:

Tips:
Easy downhill walk to the quayside....
Would Recommend: Yes
8th August 2017:

Lovely hosts, excellent breakfast! Lovely room with comfortable beds, amazing view on the sea! Definitely will stay again! Would recommend to all!
Would Recommend: Yes
9th March 2017:

Very quiet location with some rooms having a sea view. Also, off-street parking, not common in Ilfracombe.
Tips:
A 15 minute walk to the harbour via the Swimming Pool Car Park, following the road is much further and you would miss the sea views. Restaurants to suit all tastes and prices mainly in the harbour and surrounding areas. A friendly pub (with food!) about a 5 minute walk.
Would Recommend: Yes
15th October 2016:

Very friendly and welcoming service. The house is old and characterful. There is also a large comfortable lounge. The house was also quiet and situated away from the busy atmosphere of the town. No off-street car park but ample parking in the road.
Tips:
There is a pub nearby which offers meals. Otherwise you will have to walk into Ilfracombe centre which, although not far, does involve a healthy walk uphill for your return journey.
Would Recommend: Yes
30th August 2016:

Lovely & friendly service. Thank you
Would Recommend: Yes
28th August 2016:

we all had a very nice stay with you it was nice well done all the best and thank you
Would Recommend: Yes
5th August 2016:

Would Recommend: Yes
10th July 2016:

Would Recommend: Yes
14th March 2016:

Excellent well run guest house with friendly & helpful owner.
Tips:
Hele Billy Bar & Restaurant well worth a visit
Would Recommend: Yes
24th September 2015:

Very friendly and accommodating staff, who were happy to let me store my bike in a safe place. My room was very reasonable and everything I needed was available. The hotel is kept to a very high standard. I will be visiting Ilfracombe again later in the year, this time with my partner, and I have recommended to her we stay at Varley House.
Would Recommend: Yes
9th September 2015:

Thank you for your very personable service in your large and spacious house! Breakfasts were excellent and guests were relaxed enough to chat across tables... Which was fun. Always helpful and on hand with suggestions and advice about the local area and places to see Rod, we enjoyed your company. We will definitely recommend Varley House to others. Thanks again and best wishes for the future. Maggie and Arthur McCutcheon
Would Recommend: Yes
2nd September 2015:

A pleasure to do business with, from booking, confirmation, welcome, hospitality. cleanliness and breakfast
Tips:
Be aware it's a steep 10-15 minute walk from town centre/harbour
Would Recommend: Yes
27th August 2015:

Great staff lovely breakfast and overall v good. A little dated in decor but very clean which is the main thing
Would Recommend: Yes
23rd June 2015:

A thoroughly enjoyable stay made better by kind helpful people...Thank you!!!!
Tips:
Too many options, quadbiking, walking, beaches, Verity, Varley House
Would Recommend: Yes
.