Harbourviews
Hillsborough Terrace
Tel: 01993 771346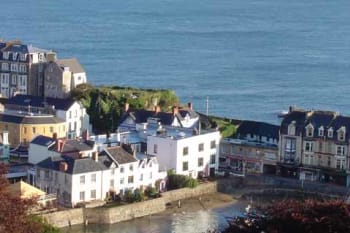 We are pleased to offer you our 2nd floor, spacious, luxury 2 bedroom apartment with magnificant sea views overlooking Ilfracombe Harbour and town. Our Georgian apartment sleeps up to 6 people. The main bedroom has a king size bed and stunning sea views. The twin room comes with an ensuite. Family bathroom with bath and large walk in shower. Fully fitted kitchen with washer dryer, dishwasher microwave and full cooker. Our large lounge diner enjoys the stunning sea views. Dine at the extending oak table or enjoy the views from the window seat. Enjoy relaxing on leather sofas watching the large tv with home cinema system. Gas central heating to radiators. Parking space for one car with telescopic parking post. Walk into the town to the many shops pubs and restaurants. enjoy walking the coastal path from our doorstep. Many golf courses nearby. Woolacombe and Croyde bays are a short drive away for sand and surf.
Availability
There are no rooms available at Harbourviews
for these dates.
Please try other dates or select a
different property
.
units
Max:
Private facilities
Room Facilities:
Washer-dryer
Sofa bed in Lounge
walk-in shower
Twin room w ensuite
ALL Rooms Non-Smoking
Broadband/High Speed Internet Access
Cooker
Dining Area
Dishwasher
Freezer
Fridge
Hair Dryer In Room
Heating Throughout Property
Ironing Facilities
King Size Bed
Kitchen
LCD/Plasma Television
Living Room
Microwave
Sea/Loch View
Telephone With Voicemail
WI-FI Internet Access
Facilities
King Size bed
PVR
Twin room
Washer-dryer
Internet Access
Policies
Check In: Between 15:00 and 23:45
Check Out: Between 7:00 and 11:00
Wi-fi: Wireless internet is available and is free of charge.
Smoking: There is no smoking permitted anywhere within the property.
Parking: Parking for all guests is available on site and is free of charge.


Children: Children of all ages are welcome.
Pets: Pets are not allowed.
Groups: Groups are accepted up to a maximum of 6 people. Stag and hen groups are allowed.
Average
4.9
out of 5
32 reviews
100% recommend
Reviews
20th September 2020:

Wonderful, clean, warm, and comfortable apartment with everything one could need in a holiday home, with the added bonus of the fabulous, uplifting sea views.
Tips:
A fabulous base in North Devon- excellent walking, glorious countryside either on the coast or inland. Exmoor in one direction, North Devon, and even Cornwall within close reach/on your doorstep! Croyde Bay amazing for the surf, and with a National Trust car park - highly recommend the NT's 10 mile walk around Baggy Point to Woolacombe. The sea was just right for a swim at Putsborough Sand and a picnic en-route. A trip to Lundy from Ilfracombe also comes highly recommended - a stay on the island is quite magical and special!
Would Recommend: Yes
10th August 2020:

Very clean, well equipped apartment. Everything is there, that you could possibly need. Comfortable beds. Amazing views, good for people watching. Ilfracombe is a lovely seaside town.
Tips:
Had 2 lovely meals out. Both very good, the Italian and The pier, with lovely sea view. Woolacombe beach is lovely, just a little expensive to park. £10 per car, but well organised.
Would Recommend: Yes
15th February 2020:

Would Recommend: Yes
27th January 2020:

Beautiful flat with amazing views. Very well equipped with everything you could think of. I have added to my favorites as I will definitely try to book when coming back to visit Lundy Island
Would Recommend: Yes
2nd January 2020:

Would Recommend: Yes
23rd September 2019:

Clean, spacious, well equipped and very comfortable apartment. Wonderful views. Lots of useful information provided beforehand re apartment, local attractions and eateries - all made good use of during my stay. I also appreciated Karen contacting me on my arrival day to ensure that I settled in well. I've had a very enjoyable stay indeed! Thank you.
Tips:
I left a note in the guest book.
Would Recommend: Yes
23rd July 2019:

Had fabulous stay worked well with two couples with en-suite . Lovely very well equipped flat spotless and fabulous views
Tips:
Lots to see . All things Morris weekend was fun . Lovely places to visit locally like Woolacombe . Been going for years fabulous coast line . Would recommend
Would Recommend: Yes
25th April 2019:

Beautiful flat and such an awesome window seat looking onto the harbour. Clean and fresh, everything. You could want / need. My one piece advice is that the walk into harbour needs good knees ! - lots of steps but worth it for the lovely shops, restaurants etc. Excited by the Beatrice Potter connection don't know why you don't promote this more ?
Tips:
Verity is simply awesome and best of all was we went onto the chapel on the hill at sunset and that was a truly treasured moment we've captured on camera.
Would Recommend: Yes
Owner Response:
So glad everything was to your liking apart from the steps down to the harbour! We have known people comment that a stay in Ilfracombe is as good as going to the Gym !!We would love to have our connection to Beatrix Potter recognised, I believe there is more information about her time here in the Ilfracombe museum.
2nd November 2018:

This apartment was so clean, there was not a speck of dust anywhere to be found! It was really comfortable and well equipped. Spacious and yet felt cosy, especially when we made use of the fire in the lounge (we visited during a cold spell!). There is everything you could possibly need in the apartment and Karen left us some welcome treats which was a lovely touch. It was great to have the bathroom plus the ensuite loo in the 'kids' room (this room would also suit 2 adults perfectly). The views are just spectacular in the apartment! We were a bit nervous to use the parking space as with a larger car it is very tight, however we were able to park up on the last evening when there was nobody in the space to the left. There was no problem finding spaces in the carpark close by or on the road. They are reasonably priced at £4-sonething all day.
Tips:
Go see Verity the Damien Hurst statue up close, she is stunning! It's fab to then be able to see her out of the apartment window! Wetherspoons is a great place to eat without breaking the bank and is a really nice one (I know they aren't always)! Arlington Court is a lovely national trust property nearby and well worth a visit. We visited the aquarium which whilstvsmall had loads of info and occupied our little boys for an hour or so (you could spend longer but we turned up towards the end of the day). The little gift shoo had some lovely things and there is a cafe). You're really close to Woolacombe if you wanted a largevsandy beach. We tried to go to Tunnels Beaches to find it (them?) Closed for the season. Be aware of this if planning a trip (we tried to go on 30 October). We are in the Dolphin fish and chip restaurant down in the harbour. The chips looked pale and we thought they were going to taste undercooked, but appearances can be deceptive as they were really yummy! Recommended!
Would Recommend: Yes
6th September 2018:

Our 5th or 6th stay at Harbourviews and it never fails to impress. We will be returning - and we might even try a winter break...
Tips:
The Sea Safaris are great - especially the wet and wild ride!
Would Recommend: Yes
29th July 2018:

Sparkling clean apartment with beautiful views.
Would Recommend: Yes
7th July 2018:

A definite home from home with everything you might need. Thoroughly reccomend this lovely apartment.
Would Recommend: Yes
15th June 2018:

Tips:
Enjoyed the tapas on the terrace. Trip to Lundy was fantastic for nature lovers.
Would Recommend: Yes
27th May 2018:

Lovely apartment in great location
Would Recommend: Yes
1st May 2018:

Easy booking. Great location. Very comfortable apartment with fabulous views.
Tips:
There are so many places to eat, and things to see. Fabulous walks close by in the wonderful Exmoor National Park, as well as any number of attractions for tourists. We very much enjoyed the Sri Lankan curry on Barricane Beach, with Lundy Island in the background.
Would Recommend: Yes
14th February 2018:

It was so quick and easy to book. Everything in the apartment was impeccably well thought out, a home from home environment which made settling in no problem. The views are amazing. We would recommend this accommodation 100%. We had a fab short break and are hoping to return again in more sunnier climates.
Tips:
We experienced lots of lovely walks along the harbour. Lots of restaurants and cafes in walking distances. There are a few halal places to eat, which was amazing! Woolacombe beach not too far away. The views are amazing and just capturing the fresh air, it makes a worth while stay.
Would Recommend: Yes
24th October 2017:

Wonderful apartment! We had such a lovely time! The flat was bright and airy, very clean, beautifully decorated and very comfortable. We loved it. Everything had been thought of. I really didn't want to leave! We will definitely return! What a marvellous few days!
Tips:
Ilfracombe is a lovely sweet town with many independent shops. Everybody was happy and welcoming despite the fact that they were all getting a proper battering from hurricane Brian! Nothing was too much trouble, the food was great in the cafes ( Damien hurst cafe and nelly Mays, which is slightly down the high street, well worth the visit). The aquarium ( for an ex marine biologist) was top notch: how they fit the whole story from estuary to ocean in that small space I don't know. Very impressive and intelligent colourful interesting information boards with lovely staff. There is a lovely gift shop next to nelly Mays which goes on forever with super little locally crafted items ideal for special gifts, again great staff! Hele Billy's restaurant in Hele was super, the fish was amazing! We had a lovely welcome there as well. Lynmouth and lynton and the vernicular railway were a great way to finish our trip. There is not a single negative, it was simply delightful.
Would Recommend: Yes
27th September 2017:

Very comfortable apartment, tastefully furnished. Very well equipped. Central to town and harbour. Only negative comment: the very narrow parking spot and the entrance road.
Would Recommend: Yes
23rd September 2017:

We were a bit cold in evening did not know how to put heating on. Did not reaise there was extra bedding.there was crumbs in the oven and under toaster. Parking poll stiff to get out, but none of this changed our opinion it was really good and we would recommend it.
Tips:
Left a map directions to Tesco and Lidl we thought will be helpful Exmoor well worth a visit..
Would Recommend: Yes
Owner Response:
Really pleased you enjoyed your stay. Guests can find instruction booklets on how to operate the heating and any appliance in the apartment in the kitchen drawer or lounge or can ring us for help.
22nd August 2017:

Absolutely fantastic accommodation: well appointed to high standard. Truly home from home.
Tips:
While on holiday in Ilfracombe, we always spend part of every day wandering between the Tunnels beaches and the harbour (and all the places in between!)- just a very nice place to be.
Would Recommend: Yes
30th May 2017:

Lovely apartment, like home from home. Will definitely be returning hopefully next year.
Tips:
Buses to Woolacombe is worth a day out, beach is amazing. Takes about 20mins from High Street garage and costs £5 return.
Would Recommend: Yes
29th August 2016:

A perfect apartment - home from home! This was our third stay and we look forward to many more.
Tips:
The lifeboat station is well worth a look round. We haven't had a bad meal in any of the cafe's/restaurants so take your pick!
Would Recommend: Yes
11th July 2016:

Exceptionally comfortable and clean flat in beautiful location. Perfectly equipped - children friendly - relaxing. Thank you.
Would Recommend: Yes
24th May 2016:

Lovely flat, great location, the flat was beautiful and clean when we arrived. Cannot rate it high enough, thank you!
Tips:
Try to bring a small car, as the parking space is really quite difficult to use with a big car! We were only here for a little while, but loved Watermouth Castle and the tea rooms over in Hele. We did a beautiful walk over the hill, which had spectacular views as well as giving us access to some hidden beaches!
Would Recommend: Yes
2nd January 2016:

Absolutely brilliant apartment, fantastic location. Very clean, very homely. It has everything you need and more. We will certainly return and look forward to doing so!
Tips:
The Pier has some great ales and is a very short walk away and i would recommend The Quay for food!
Would Recommend: Yes
30th October 2015:

The apartment was excellent with wonderful views. Our biggest concern was the parking which was nearly impossible and extremely stressful and resulted in a dent in the front of our car. The adjoining buildings were in a state of disrepair which was a shame given how wonderful the apartment was once inside.
Tips:
We really loved the village of Leymouth and the cliff train, the walks at Watersmeet were great, the tunnels were a big success with our children as was the food at Damien Hirst's restaurant. Climbing the rocks and skimming stones were also a hit on both Woolaconbe and ilfracombe beaches.
Would Recommend: Yes
Owner Response:
We are sorry to hear that you struggled with parking. We park a MG ZT saloon there and find reversing into the space best. There is street parking on the raod below out of season and we often recommend using the car park at Larkstone for parties with 2 cars or those who find parking difficult on the terrace. I dont think the Victorians anticipated parking and we are lucky to a have a dedicated space. It is sometimes difficult when there are cars parked either side of our space. I will add some notes on the directions to help.
1st August 2015:

Immaculate and very comfortable flat with everything you need. Lovely views. The only (minor) negative point is the parking bay which is very tight and inaccessible at times. Our advice: always use the nearby public car park and buy a permit.
Would Recommend: Yes
Owner Response:
Glad you enjoyed your stay and sorry to hear about the parking. By all means do ask anyone encroaching on our space to move. Glad you found the carpark nearby though, it is useful for a 2nd car for larger groups, the daily rate is less than £5 and as you say you can save money with a weekly pass.
13th July 2015:

It is a beautiful apartment overlooking the harbour. It was spotlessly clean and very well appointed.
Tips:
The apartment is ideally located for local beaches and for headland walks. The Thatch pub down the road had lovely food. It's easy to walk into the town from the apartment too.
Would Recommend: Yes
1st July 2015:

Good apartment. Only negative is parking being quite tight. Neighbours parked too far over.
Tips:
Had a lovely meal in the local tapas bar
Would Recommend: Yes
15th June 2015:

Excellent apartment, very clean, superb views
Tips:
The Thatched Inn very good food
Would Recommend: Yes
31st May 2015:

Great apartment with everything we needed available. The apartment was spotless and so a great place to spend our holiday. Parking outside would have been very tight for our car but not an issue for us as we unloaded and parked for free around the corner. All manuals and instructions were clear and communication and booking system was great. We hope to return, Thank you.
Tips:
Ilfracombe is a great old fashion seaside resort, you can forget about seeing any big high street stores here and seek out some great little shops and restaurants which offer some fine food and service. Check out the reviews on Trip Advisor. Lovely harbour with some great boat trips.This time we went on the rib boat sea safari trip which was good value for money. The lifeboat 30 min trip was also fun takes you out and about around the harbour with a very friendly skipper. Endless walks not far away, More Point and Baggy point, Heddon Valley. Locally there's a short hilly walk to Hele Bay with great views of the town and also a longer walk to The Lee with the option of getting the bus back. Slightly further a field are many great beaches, Woolacombe being our favourite.Be sure to cycle along all or part of the Tarka Trail which is particularly great for families.
Would Recommend: Yes
22nd January 2015:

The apartment is cosy, very clean and well-equipped and has wonderful views.We thoroughly enjoyed our week and found plenty to do even in January.
Tips:
We enjoyed two really good meals at the Gendarmarie (seemed to be only open at the end of the week in January)and at the Damien Hirst restaurant "the Quay". My husband reports that they had seven cask ales on at the Ship and Pilot.
Would Recommend: Yes
.